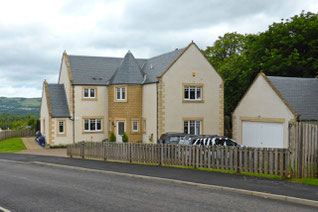 Our house-sit in Melrose is a large, typical British house on a larger-than-usual (for Britain) block of land in a new rural subdivision on the edge of town.
We have views to the distant rolling hills covered with farmland and sheep, and the local golf course is right over the road, which is handy for walking the dogs that we are looking after.
The dogs are two boxers, Lulu, a female just over a year old, and her betroved, Bruno, a male about three years old. Here they are:

Bruno is the big one in front.
Lulu had come into heat for the first time just as we took her over; we have only had de-sexed dogs before, so this is all a new to us!  An important aspect of this is that we have to make sure that we keep her away from other dogs when we are walking her.  We don't want to hand her back to her owners with a litter of mongrel puppies inside her!
They're great dogs; very characterful, affectionate, lively, and interesting; although, being boxers, you do have to make sure you don't stand too near to their head when they shake it, on account of the drooley jowls!