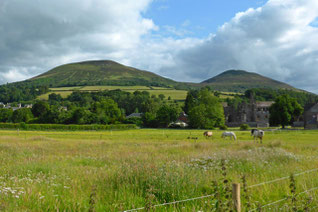 This whole area around Melrose is visually dominated by the Eildon Hills, three large hills that rise sharply out of the surrounding landscape.  The hills are laccoliths, which are volcanic eruptions that never made it to the surface; the magma cools between layers of other rock, which are subsequently eroded away.
The northern-most hill, Eildon Hill North, is on the edge of town, and forms a backdrop to many scenes in Melrose.  Here is Eildon Hill North with Melrose Abbey in the foreground.
The largest of the three is Eildon Mid Hill, and the smallest is Eildon Wester Hill.  On the west side of the saddle between Eildon Mid Hill and Eildon Wester Hill there is a small hump called Little Hill; Little Hill was formed in more recent geological times than the others, and by a different geological process.
Due to the arrangement of the hills, only Eildon Hill North and Eildon Mid Hill can generally be seen from the immediate area of Melrose; however, all three can be seen from other districts, such as nearby Scott's View, a viewpoint loved by Sir Walter Scott, who lived in this area.
The hills can be see from tens of kilometres around, and, conversely, the view from the top extends out to tens of kilometres, across the rolling hills covered in fields of barley and wheat, sheep pasture, and patches of Scott's pine plantations.  This is the view from Eildon Hill North looking past Wester Hill.

The hills are covered in heather, which is just staring to flower.
When it is all out in flower the hills should be covered in purple patches. We should still be here when this happens; if we are, I'll post a photo of it here.