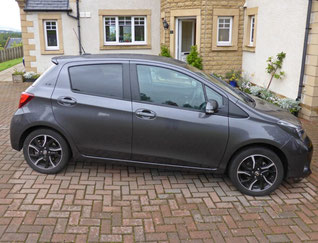 The journey to Edinburgh itself explains why we are getting another hire car. Between the three of us it cost us £36.60 ( $77 AUD) to get from our house-sit in Melrose to Edinburgh airport by public transport - we can share a hire car between us for £13 ($27) a day!  When you're traveling in a group, car hire is usually the best and cheapest way to get around, especially in top-tier, first-word countries like Britain, Ireland, and the USA, where public transport is usually expensive.
There are other advantages to hiring a car.  The journey to Edinburgh Airport by public transport took us about three hours; whereas, the return journey in the car took just over one hour.  With a hire car we can travel whenever we like, we can take extra clothes in case it gets cold(er) or rains, and there are lots of places that we just can't get to without a car.  Sure, we still have to pay for fuel and parking, but a car has huge advantages, especially when traveling in a small group to spread the costs. 
There is a downside to hiring a car; you don't get to mix it with the local people as you do on public transport; driving is much more stressful than sitting in a bus or a train, especially when you're in a country where you drive on the right -hand side of the road, or when you are driving in a city.  
There is also a lot of responsibility to driving a car; you have the potential to do a lot of expensive damage to the car or other cars or property, and you can more easily injure or even kill someone with a car that with any other form of personal property except, perhaps, a gun!  Any of these events are going to be a huge hassle, especially if you are planning to fly out the next day on an expensive and inflexible plane ticket.
And the reason we are getting a hire car from Edinburgh airport rather than from in town is because hiring a car from the airport is just slightly over half of the cost of hiring one in town.  This seems to be the case anywhere in the world; I assume that this is because there is so much business at an airport that the process is very efficient. 
We are up to our eighth hire car so far, and all but one have been hired through a car-hire brokerage web site called Economy Car Rentals.  Economy Car Rentals arrange remarkable good deals, usually significantly better than going to the car companies directly.
Addendum:  Since posting this I've put together a lot more ideas and information about travelling with a car and hiring a car; you can find it all here.