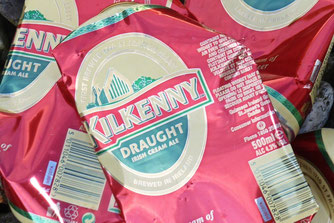 When we got our house-sit in Ireland I realised that we would not be too far from Kilkenny, where one of my favourite famous Irish beers comes from; so I was very much looking forward to visiting Kilkenny to check out the brewery, and try some Kilkenny Draught Irish Cream Ale in its home town.  
Kilkenny is a pretty little city with a medieval centre with narrow winding streets.
Kilkenny also has cute little pubs.
Unfortunately, when I got to Kilkenny, I found that Kilkenny Draught is no longer made there, but is now made in Dublin, at the Guinness brewery.  The old Kilkenny brewery is still there, but it is mothballed for now.  Guinness has donated the whole brewery site to the city of Kilkenny, so I guess it will eventually become an Irish-beer theme park.
In the main street, in front of the mothballed brewery, there is a beer tourist attraction called Smithwick's.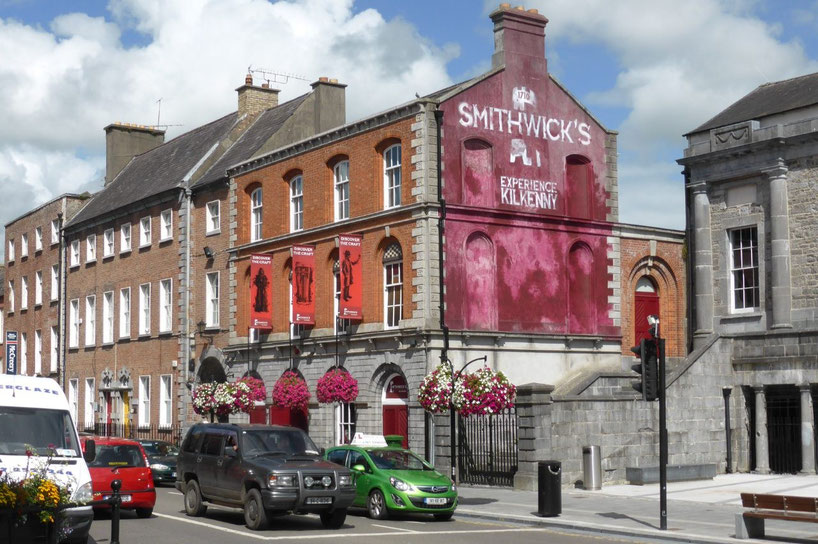 I had tried, and very much liked, Smithwick's draught beer in a pub in Ennescorthy, knowing that Smithwick's was in Kilkenny, and therefore thinking that Smithwick's was a Kilkenny beer.  But, alas, when I got to Smithwick's in Kilkenny, I found that this beer is also made by Guinness in Dublin!  Fortunately, Guinness is also a favorite Irish beer of mine, and now I have a new favourite Irish beer, Smithwick's, to add my list of favorite Irish beers!
Interestingly, both Kilkenny draught and Smithwick's draught claim, on the can, to have been made since 1710; whereas, Guinness claims, also on the can, to have been made only since 1759.