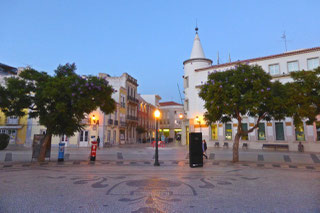 We landed in Faro, Portugal two days ago and haven't seen a cloud since - a major point of difference from Ireland and Scotland!  Its great to be back on the Iberian peninsula again.  So much here in Faro reminds me of our time in Andalusia, Spain, in April - the white washed walls, the blocky style of the cathedral after all the gothic-style cathedral in the British Isles, the wide use of ceramic for decoration and street naming, the outdoor eating and the great food.
Faro is on the Atlantic coast, but is separated from the ocean by a vast area of wetlands which is run through with a maze of channels, which are great for small boating, and activities such as canoeing.  There are also large open areas that would be great for sailing.  This wide-angle panorama shows the wetlands beyond the town foreshore. (The building in the foreground isn't really curved - its an effect of the wide-angle panorama.)

Something else that I love about the Iberian peninsular that contributes to its particular character is all the terracotta roof tiles.  Here's another view of the wetlands across several roofs of these tiles.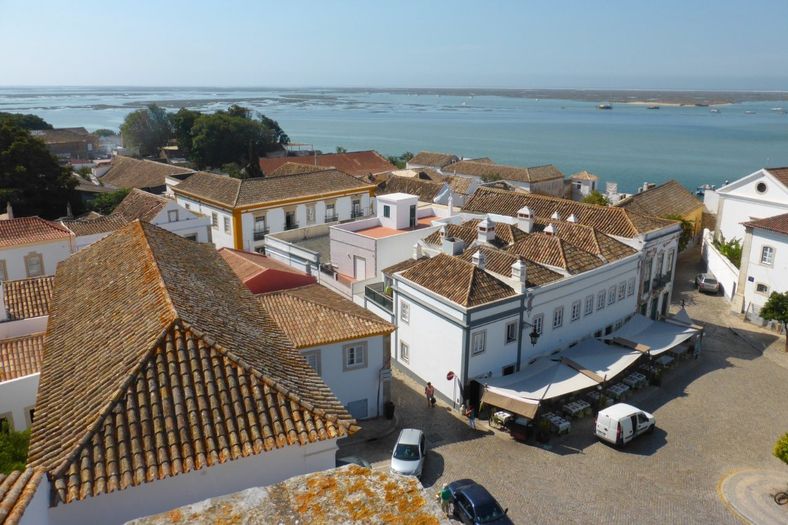 These views are from the bell tower of the Faro Catedral.
Adjacent to the cathedral is an unusual structure called the bone chapel.
All those round objects that can see are remains of human bones - the larger ones are skulls, and the smaller ones are the tops of thigh bones.  The bones are very old, so the fronts of many of the skulls and the tops many of the thigh bones have eroded away.  You can see them better in this detail.
Belying its relatively plain whitewashed exterior, the Inside of the cathedral is, typically, highly decorated.  This is the remarkably ornate organ:
While this is a Christian cathedral, Portugal's Moorish Islamic heritage comes through as it does in Spain, especially in the ceramic tile decoration that is so universal on the Iberian peninsular.  This alcove in the cathedral is beautifully decorated with tiles, to the extend that it visually overwhelms the statue that it is meant to be a backdrop for.
The decoration continues into a complex arched ceiling.
Here's more beautiful ceramic tile decoration around the altar:
And here's a tile panel from the cathedral's cloister:
Ceramic tile decorations continue throughout Faro, in fact, they are popular everywhere in Spain and Portugal that we have been.  As in Spain, ceramic tiles are commonly used for signage; here's the sign for the police station: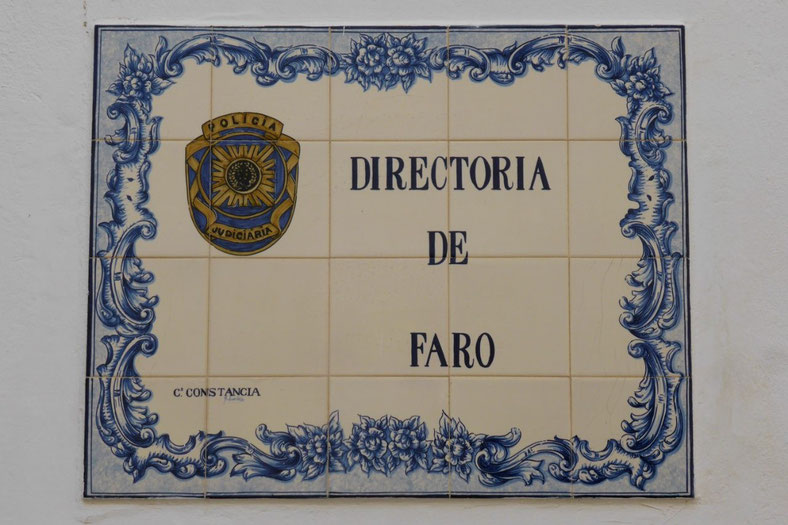 And here are some street name signs.