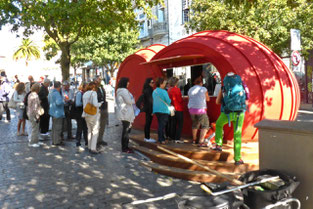 This queue at this funny looking "Red Shed" is a queue to buy tickets for one of Porto's tourist attractions.  The tickets cost €3 (AUD $5).  The queue is actually relatively short at the moment - it was much longer yesterday morning. So what's the big attraction?
The big attraction is a bookshop: the Lello and Irmão bookshop!  
Here's a close-up of that facade:
These people aren't queuing to pay €3 to go into the bookshop to buy a book - they're going in to see the magnificent interior design.  The neo-gothic and art nouveau interior, especially the staircase between the two floors, is highly regarded, and has attracted so much interest from tourists that the bookshop clogs up with them, so they charge people to walk into the bookshop and see the decoration.  And the interior design is marvelous; here's the amazing staircase:
And here's how it looks from below:
Here's the ceiling leadlight panel above the staircase:
Of course, if you actually do buy a book, you get your entry cost removed from the price.  
Now, here's the funny thing: these aren't my interior pictures, because I didn't get to see this amazing interior!  Initially, I didn't bother to go in because I wasn't sure it was worth the time or the money, so I did other things.  When I saw the photos I decided that I did want to see it, and planned to go at the end of the next day, but by the end of the next day I had come down with a nasty cold and was too sick, and the following day we left Porto very early in the morning.  That's the way it goes sometimes - at least I got to see my travelling companions' photos.
Many tourist atractions around the world find an association with a popular culture figure, commonly with a USA president, Starwars, or J K Rowling.  This one is a J K Rowling association.  Rowling lived in Porto for some years, and is reputed to have frequented this bookshop and to have used some of its decoration features in Harry Potter's Hogwart's school.  She is also reputed to have modelled the Hogwart's school uniform on the formal uniform of Portuguese university students, who are regularly seen on the strets of Porto, as well as Evora and Lisbon.