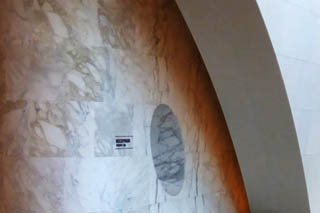 Flying from Brisbane, Australia, to London, UK, is a long journey, with about 23 hours in the air.  While we were well looked after by Korean Air, and there were plenty of marvellous things to see out of the windows of the aeroplane, it's nice to get out and get a good night's sleep halfway through the journey so that you're in a bit better condition at the end destination.  
One of the reasons that we chose Korean Air is because they included a nice stopover in Seoul (actually in Incheon, just outside of Seoul) for a reasonable price.  (The other reason is that it kept us clear of the Middle East, which has since proved to be a route to avoid in an aircraft, even if we did fly within sight of North Korea instead.)
For our overnight stay, Korean Air put us up at the Incheon Grand Hyatt, a magnificent hotel just outside Incheon Airport, on Yeongjong island.  We are travelling on a low budget, trying to do everything as cheaply as possible, and one of the most expensive aspects of travelling is accommodation, so we don't expect to be staying anywhere as flash as this again, but it's a great way to start our journey!  
The foyer of the hotel is beautifully decorated and just slathered in polished marble, which is cut into all sorts of complex shapes.  The hotel seemed to have vast numbers of staff whose only purpose was to greet and bow gracefully to you (and stay bowed until we worked out that you need to bow back to them to release them.)  Here are some pictures of the foyer:
The unattended bag is mine – no need to panic!
And our room was big, comfortable, and well appointed – perfect for recovery from and preparation for a long flight in economy class seats.  And just as I experienced years ago, when stopping over in Japan, the toilet is a modern marvel with too many functions to go into here - lots of blinking lights, and a separate wall-mounted control panel covered in obscure little symbols and their associated switches.  I don't know how you would go in a power failure, though! 
I don't actually put too much value in flash accommodation; just clean, functional, comfortable enough, and affordable is what I want; but when you're getting it for "free" I'll have a little wallow in it, especially at the start of a long journey which will mostly feature much more basic shelter! 
What I do value, however, is good food.  Our stopover deal includes buffet dinner and breakfast at the hotel, which is, as expected, fabulous – a huge range of marvellous Korean and western food!  I didn't take any pictures of the buffet to show you, because that's a bit too touristy a thing to do in a top-level hotel dining room, and because I just wanted to get in and try all the food; but I can assure you, it is a food adventure with so many delicious and interesting dishes to choose from. 
Because the Incheon Grand Hyatt hotel is on Yeongjong Island, next to Incheon Airport, we flew adjacent to it as we took off.  Here it is (circled), with mainland Korea in the background behind the usual smog.  The raised track running behind the hotel is the maglev (magnetic levitation) train that is due to commence operation in 2016. 
---
Would you like to add something, or ask a question?  Add a comment below (you can leave the 'Website' field blank):