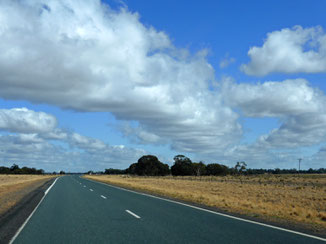 In 2015 I spent eight months travelling around the British Isles, the Iberian peninsular, Iceland, and North America, some of which I have blogged about here (with more to come.)  Now we've sold up and become completely nomadic, and we are on our way to do some extensive travelling around our home country, Australia. 
Australia is a popular destination for travellers from all over the world, and for good reasons - it's a beautiful and varied land with some amazing and singular features, and, despite sharks, snakes, spiders, crocodiles, box-jelly fish, Martin Bryant, Ivan Milat, Bradley Murdoch, the Coorong backpackers kidnapper, Australian yobbos, bush fires, droughts, and cyclones, it's mostly a safe place to travel, if a little expensive.  So, it's time for me to do what many travellers don't do, which is to travel in my own land.
As before, we are going house sitting.  This time, we are starting off with a two month house-sit in Cygnet, in southern Tasmania.
To get to Tasmania we are doing a 2800-kilometre great Aussie road trip, driving from the Sunshine Coast, Queensland, west across south-east Queensland, south through the Granite Belt, through the New England district of New South Wales, through to the Victorian border, along the Murray River and into Melbourne.  After a few days in Melbourne we will cross Bass Straight on a car ferry to Tasmania, and then drive down to Hobart and on to Cygnet.  The whole trip will take us thirteen days to complete.  Here's the Google Maps route of the trip:
You can click on the map to view the route in Google Maps.

Here are the travel details of the stages of our route:

Sunshine Coast to Stanthorpe, Queensland
Via Beerwah, Woodford, and Esk: 4 h 21 min, 364 km.

Stanthorpe, Queensland to Armidale, NSW
2 h 49 min, 245 km.

Armidale to Coonabarabran, NSW
Via Tamworth and Gunnedah: 3 h 25 min, 294 km.

Coonabarabran to Forbes, NSW
Via Dubbo and Parkes: 3 h 15 min, 297 km.

Forbes to Echuca, Victoria
5 h 29, min 515 km.

Echuca to East Melbourne, Victoria
Short trip to get into Melbourne early: 2 h 38 min, 225 km.
East Melbourne, Victoria to Cradle Mountain, Tasmania
Including catching the Spirit of Tasmania ferry across Bass Straight: 21 h  58min, 539 km 
Cradle Mountain to Hobart, Tasmania
Via Launceston:  3 h 15 min, 318 km.
Google Maps is very helpful when planning a road trip like this, as you can add in all of the intermediate waypoints and determine the distance and time taken between them to help you to spread the trip out evenly over the allotted days.  You can then save (and share) each stage separately for use in the Google Maps Navigator on each day of travel.  It's also easy to send your constructed itinerary to other people for input and approval.  All of this isn't really possible with the Android app, but using Google Maps in a browser in Android works quite well, and using Google Maps in a browser on a computer works best.
---
Would you like to add something, or ask a question?  Add a comment below (you can leave the 'Website' field blank):