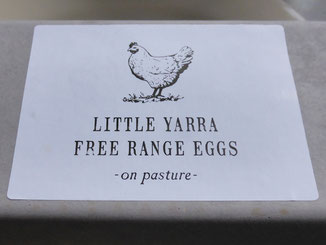 We took a wrong turn at Yarra Junction in Victoria while we were trying to pick up the Lilydale to Warburton (Warbie) Rail Trail (a disused railway line that is now a multi-use walking track) for an afternoon walk.  
As we drove around the country lanes looking for our destination we went past a free-range chook farm with hundreds of plump brown chooks running around the grassy paddocks and on the quiet, back-street road verges.  
The sign board was out so we dropped in to see if we could get any eggs ('chook' is Australian for chicken, by the way) – and we were in luck: an old fridge on the side of the driveway gave a dozen eggs at a great price!  
The farm is Little Yarra Free Range Eggs  – and they're real free-range eggs, because the chooks run around on and eat green-grass pasture – they're not kept on a crowded, hard-packed-dirt chicken run and fed chicken feed.  
So, does the pasture life make a difference to the eggs that the chooks lay?  I used some of the eggs to make a tortilla de patatas (Spanish omelette), and, as expected, they looked fantastic when I broke them into the bowl, so I took a photo of them for you before I mixed them in:
Look at that rich, nearly fluorescent-orange colour!
Also as expected, the resulting tortilla de patatas was delicious – pity I forget to take a photo of it for you before we ate it!
---
Would you like to add something, or ask a question?  Add a comment below (you can leave the 'Website' field blank):