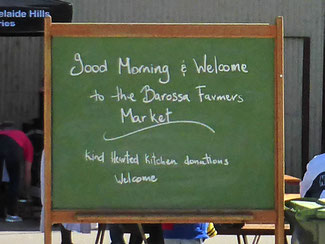 We love buying fresh produce and hand-made goods, especially food items, at farmer's markets – we seek them out and visit them wherever we go, so we went to the Barossa Farmers Market near Angaston, in the Barossa Valley, Australia, at our first opportunity.  
We weren't disappointed – the market is the best I've seen since visiting the fabulous local markets in Tasmania.
The market is held in big, double-gabled former vintners sheds.  Most of the stalls are inside the shed with some overflowing out the front.
The sheds are part of an adjacent restaurant and look as though they are used as a function area at other times, with a servery and long trestle tables set up as an eating area surrounded by lots of big, impressive wine casks.  On market days, like today, this area is used as a breakfast bar and café, which looks great, and is very popular, with plenty of people queueing up to buy breakfast.
The rest of the space is all little artisan's stalls. 
As you can see, the market is very popular; although a stall holder who we bought olives from told us that this was actually an unexpectedly quiet day.
Like almost anywhere in the Barossa Valley, the market is surrounded by vineyards – here they are, adjacent to the market's entrance:
By the way, while South Australia is famous for its wind-turbine generators, that's not what you can see standing in the vineyard in the near distance on the left side of the picture – that's a fan used to blow away the frosty air in cold weather, so that the grape vines don't freeze.
The produce and goods on sale at the market are of excellent quality – we found lots of delicious stuff to buy – here's our haul spread out on the dining-room table back at our house-sit in Tanunda:
Some notes: that's not pizza in the middle, it's focaccia; the half-dozen eggs are duck eggs; the loaf of bread is vollkhorn, a German style of bread which we used to buy regularly at Baked Poetry, a German style café on the Sunshine Coast, Australia; the jar of purple stuff is fermented beet and apple (like sauerkraut); and the grapes in the top right-hand corner are plastic, and didn't come from the market.  
If you're in the Barossa Valley, in South Australia, try to catch the Barossa Farmers Market!
---
Would you like to add something, or ask a question?  Add a comment below (you can leave the 'Website' field blank):