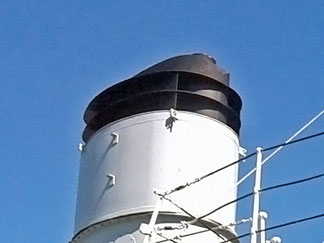 I've been kayaking all around Snug while staying in a caravan and cabin park on the foreshore during a short break from house-sitting.  The waterways around Snug range in use from relatively wild areas, through agricultural, aquacultural, residential and commercial areas, to industrial areas; so there is a wide range of things to see when out on the water. 
Just north of Snug, near Margate, at a marina development, I came across a small and old ex-naval ship tied up at a jetty.  At about fifty metres long, while this is a small ship, it is easily the biggest vessel around here, and it was quite a surprise to find it.
As I got closer I realised that, what I had at first thought was netting draped over the ship, was, in fact, planking, and that this was a wooden ex-naval ship.   I guessed that it may be a mine sweeper with a timber hull or cladding to protect it from magnetically activated mines. 
As I got closer I also realised that it was in very poor condition, with peeling paint, cupping boards, and rusting fixings.  
The wood is in particularly poor condition along the waterline:
Unfortunately, this large wooden boat needs someone to spend a couple of million dollars on it before it sinks at the jetty and then costs someone a couple of million dollars to remove it!
Identifying the ship
I was curious enough about this ship to try to find out more about it; but web-searching didn't give me anything conclusive; although, in retrospect, I came very close.  
Then I had a bright idea – we are doing a house sit in Canberra in June, and the owner is an ex-naval officer.  We have already been to Canberra, in part to meet the owners in advance, as we do whenever we can to smooth the house-sitting process out as much as possible, so I knew him well enough to ask for help identifying the ship.  He took on the challenge, and, after some web research that was more accurately directed than mine, he found that, remarkably, this was a ship that he had served on as the Mine Hunting Control Officer in the early 1970s!
So: I was able to find out that this was the HMAS Curlew, and it was indeed a mine sweeper (mine hunter, actually).  It was built in 1953, and ended its naval career in 1990.  Since then, it has been a dive boat, an illegal casino and brothel, and a movie prop in a couple of movies, including Paradise Road – and you can see it here in this movie trailer! 
Who knows what may lie ahead for the HMAS Curlew – unfortunately, it's probably not going to be good.
---
Would you like to add something, or ask a question?  Add a comment below (you can leave the 'Website' field blank):