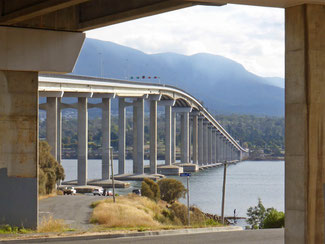 The Tasman Bridge is a long, graceful, and picturesque bridge that spans the Derwent River, joining Hobart to the suburbs on the eastern side of the river.
I've driven over the Tasman Bridge many times, as nearly everyone in Hobart and surrounds does, but I've never walked over it on its footpaths.  I decided to walk over it as it's quite high and promised the possibility of an interesting experience with good views.
Views from the bridge
The pathway on the south side of the bridge, which gives the best views of the city and the port, was closed on the day that I decided to walk it, but the views from the north side were still worthwhile!
Here's the Tasman Bridge, as seen from Rosny Point:
Here's a view of the bridge from its approaches:
I've climbed this bridge for the view – so how's the view from the top?  Well, here are some examples.
Here's Kunanyi (also known as Mount Wellington), which makes a great backdrop to the traffic on the top of the bridge:
Here's the view of Hobart city with its southern suburbs smeared up the surrounding hills behind:
The big white building on the left of the city is not a building at all – it's a cruise ship at Macquarie Point wharf on the city waterfront.  Cruise ships are a regular sight here with a new one every few days and sometimes two at a time.
There are some intentionally-lit fuel-reduction bushfires burning in the hills north of the city, which you can see here: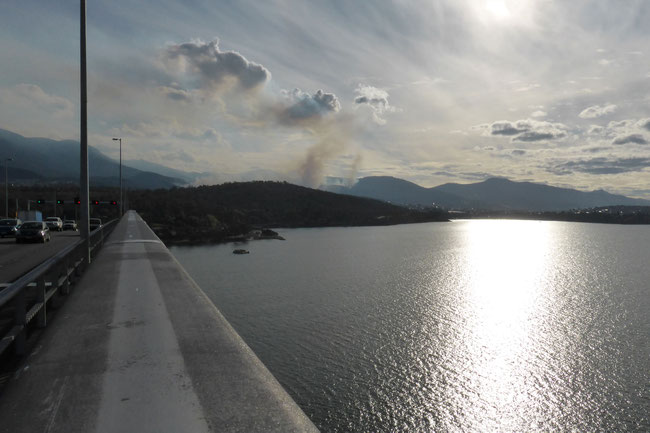 These fires are intended to remove ground litter so that dangerous unintentional bush fires, which southern Tasmania is very prone to, have less fuel to burn.
The smoke makes the views towards the west quite hazy, but also very atmospheric.
This is the view upstream along the Derwent River, with Mount Direction in the near background:
This is Rose Bay on the eastern shore of the river:
Rose Bay has one of the myriad little harbours full of private boats that dot the river banks.
The traffic noise on the bridge is loud – listening carefully, I think it is mostly from the tyres on the road, rather than car's engines.  As soon as you step down off the bridge footpath the noise drops considerably and immediately.
So that's climbing the Tasman Bridge.  It's not for everyone: the noise and presence of the traffic is oppressive and pretty unpleasant and the foot path is narrow.  The railing is very high, too: many people would be peering through the bars rather than looking over the top and getting a clear view, as I do because I'm quite tall.  Still, it's an interesting experience that has been bugging me to try for some time.
---
Would you like to add something, or ask a question?  Add a comment below (you can leave the 'Website' field blank):