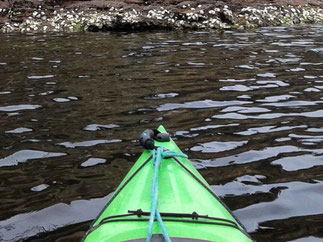 We've been house sitting at Beaupre Point, at the end of the Huon Valley, south of Hobart.  Beaupre Point is at the confluence of the Huon River and Port Cygnet, so there is plenty of water around.  As with our house-sits in Cazorla, Spain, and Marcoola, Queensland, this property is an accommodation business  The property has kayaks for the guests to use, and the owners are letting me use one while I'm here, so I've taken one out to check out the local waterways.
As with all of our house-sits there is a pet to look after – we are here to look after Charlie the border collie, who's a bright and beautiful fellow. 
Here he is, out on a walk:
kayaking at Beaupre Point
I love to go kayaking; I owned a kayak for many years until I started this house-sitting tour of Australia.  One day I will get myself another kayak, and trying out other boats as I travel is great for helping me to choose the right one when the time comes.  This kayak is a recreational touring kayak, a Seabird Designs Discovery, which is just the class of kayak that I think I'd like to own, so this is a great opportunity to try one out.  Here it is, pulled up on the beach at Gourlays Bay:
The first destination on my paddle is nearby Fossil Beach, where there is a shelving sandy beach where I can easily get in and out of the kayak to make adjustments to set it up as I like it.  Fossil Beach is named for the 200-million-year-old fossil shells that fall out of the eroding cliffs in their tens of thousands. The fossils can be so perfectly formed that they look like real shells.  Herse a block of rock from the cliff with the fossils embedded in it:
Once I've got the boat all set up, I'm off to explore the local shore line.  Here's some eroding sandstone cliffs, just east of Fossil Beach; there's probably lots of fossils coming out here, too:
Further on, the cliffs have eroded into shallow caves:
This is the west side of Poverty Point:
Poverty Point forms the western end of Gourlays Bay.  This is the east side of Poverty Point and the end of Gourlays Bay:
Gourlays Bay is pretty little bay, which is quite isolated amongst the sea cliffs.  Here's Beaupre point, as seen from Gourlays Bay:
After leaving Gourlays Bay the wind picked up, and the water became choppy.  The kayak handled the chop very well, as it's designed to do, and it's actually nice to have the slight challenge of paddling through the chop – it makes me feel much more like I'm out in open water.  As I didn't have a spray deck I wanted to focus on keeping water out of the kayak (especially after my sinking experience at Snug), so I didn't stop to take more photos; but it was a great paddle.  I learned a lot about this kayak, and it's always great to see the scenery from out on the water!
Tags
If you enjoyed this blog post, you can find related posts under these headings:
Share this The Journey and the Destination post using your favourite social media:
---
Would you like to add something, or ask a question?  Add a comment below (you can leave the 'Website' field blank):