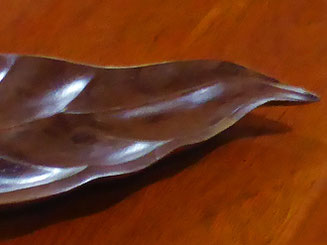 I'm house-sitting in Augusta in south-west Western Australia.  This time we are looking after couple of dogs, a cat, and a couple of galahs (large Australian parrots). 
We were in this area twenty years ago, so we're following up on some of the attractions that we saw back then.  One of those attractions is Boranup Gallery, which exhibits handmade timber furniture mostly made from local Western Australian timbers jarrah, karri, and marri. 
When we were at Boranup Gallery last time we bought a jarrah cabinet and a painting, and had them sent back to our home the east coast.  Twenty years later there's still lots of beautiful furniture here.
The furniture
This is a writing desk, with inlaid panels of burl:
Here's small dining table:
This is a large jarrah dining table:
The top of this table is a single slab of timber three metres long and 1.65 metres wide!  This would have come from a huge tree, and jarrah trees grow slowly, so this tree was likely to have been around a thousand years old.
This is a jarrah cabinet:
This cabinet has a lot in common with the one we bought here twenty years ago; it's obviously a development of the same design theme.
Here's a lovely dining table with inlaid burl:
The table's legs are interestingly curved:
The legs really do slope in underneath it – that's not just an illusion caused by using a wide-angle lens!
Here's another entry stand; this one has metal legs:
What beautiful furniture!
The gallery and its name
The gallery building itself is a lovely rammed earth and cement structure set in the bush:
If you're not Australian, and particularly Western Australian, you may be wondering about the somewhat unusual name of this gallery 'Boranup'.  Boranup is an indigenous Australian place name in the land of the Wardandi people (people of the ocean spirit).  Boranup means "place of the male dingo".  Many of the indigenous names in Western Australia end with 'up', which means 'place of'.
Boranup Karri Forest
We also went for a walk in Boranup Karri Forest near the gallery.  
This is regrowth forest, so the karri the trees are not as big as they could be, the forest is a bit weedy, and no doubt has reduced biodiversity.  However, it's 100 years old, and it's a beautiful forest walk among the big yellow trees.
Tags
If you enjoyed this blog post, you can find related posts under these headings:
Share this The Journey and the Destination post using your favourite social media:
---
Would you like to add something, or ask a question?  Add a comment below (you can leave the 'Website' field blank):