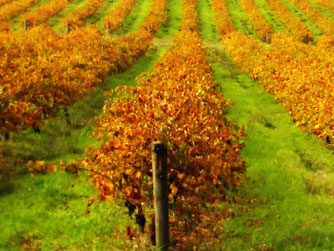 Here in Augusta, we are on the edge of the Margaret River Wine growing area, and we see vineyards whenever we travel around the region. 
I'm not big on doing the winery crawl, but I don't mind doing the occasional tasting, as I did when house-sitting in the Barossa Valley eighteen months ago.  And it's always entertaining to watch and listen to the verbal convolutions as dozens of irrelevant adjectives get manipulated into the service of describing wine.  For example: I tried a 'muscular' wine the other day!
The nicest aspect of travelling through the vineyards is seeing the vineyards themselves as they march in parallel lines across the landscape.  This time of the year, (autumn) the vine leaves are turning yellow and red, which is very beautiful.  The vineyards also make very beautiful photographic subjects. 
Here are a few quick photographs of some Margaret River wine-growing-region rural scenes:
Tags
If you enjoyed this blog post, you can find related posts under these headings:
Share this The Journey and the Destination post using your favourite social media:
---
Would you like to add something, or ask a question?  Add a comment below (you can leave the 'Website' field blank):