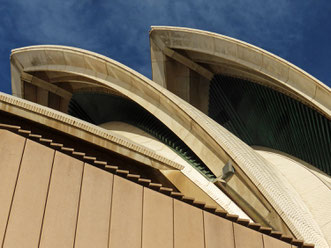 We are currently travelling from Hobart to a house sit that starts in Canberra. 
Whenever you fly out of Tasmania to go to Canberra you're almost always going to fly to either Melbourne or Sydney on the way, so, as we had a few days spare, we decided to stop over in Sydney.  I haven't been to Sydney for a few years so it's a nice opportunity to have a look around again; plus, we're coming here later in the year for another house sit, so we'll meet the house owners while we're here.
Sydney is a well-known tourist destination with some scenes and attractions that the whole world is familiar with, so I'll get them out of the way first up.  Here's the Sydney Harbour Bridge, with the Opera House and the city centre in the background:
And here's the Sydney Opera House:
Sydney opera House was designed over sixty years ago – so I wonder if, from this perspective, it influenced the design of Darth Vader's helmet!
Sydney Harbour
The other well-known feature of Sydney is its marvellous harbour.  This beautiful body of blue water is edged by attractive little bays, beaches, sandstone cliffs, bushland, and historic seaside suburbs – you'd hardly know from its condition that it's surrounded by a major city.   
Aside from its great beauty, Sydney Harbour is a major part of the city's public transport system, and the public ferries are one of the best and the cheapest ways to see it.  
You can travel all over the harbour and enjoy the views for a capped daily charge of about $16.  
We took the ferry from the main hub of the ferry system, Circular Quay, near the centre of the city, to Watsons Bay, nearly all the way to entrance of the harbour.  
From Watsons Bay we walked to the next beach, Camp Cove, then on to South Head right at the harbour entrance, and then along the cliffs that face the Pacific Ocean.
The ferry passes near to a curious little colonial artefact, Fort Denison, which is built on Pinchgut Island.
There's not a lot of Pinchgut Island left at high tide – but at least it's got a palm tree!
Staying at Kings Cross
While in Sydney we stayed in Potts Point, right on the edge of Kings Cross and a nice two-kilometre walk from the city, partly through the Royal Botanic Gardens. 
King Cross used to be Sydney's infamous seedy red-light district.  These days it's much more refined with picturesque leafy streets, lots of good-quality economical restaurants, and just enough low-key strip joints to remind you of its sleazy past!
Sydney's an interesting place – I'm looking forward to spending a few weeks there and exploring it thoroughly when we come back for a house-sit in a couple of months!
Tags
If you enjoyed this blog post, you can find related posts under these headings:
Share this The Journey and the Destination post using your favourite social media:
---
Would you like to add something, or ask a question?  Add a comment below (you can leave the 'Website' field blank):