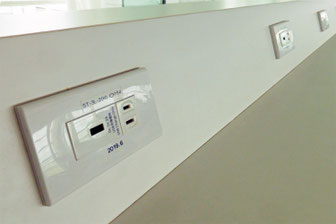 I'm on my way to a visit to Scotland, and to house-sit in Europe.  
In my preparations I made sure that I had travel adaptors for the United Kingdom and Europe.  But I've realised at the last moment that I've forgotten about my stop-overs in Japan in both directions, and, unfortunately, I've discovered that Japan has a power outlet issue that makes it difficult to use a travel adaptor! 
Japan uses type-A power outlets.  Type-A power outlets have two sockets (holes) to take plugs with two flat parallel pins.  Here's a Japanese type-A power outlet (with a USB charging outlet, too) in Haneda Airport in Japan:
Type-A power outlets are similar to the type-B power outlets that are used in the USA – the difference being that type-A power outlets don't have an earth (ground) socket to take an earth pin on the plug, so appliances plugged into them don't get earthed (grounded).
Here's my problem: any Australian electrical travel adaptors that I've seen for use in a Japanese two-pin type-A power outlet don't have a socket for an earth pin on the appliance side.  This means that they won't take the 3-pin type-I plug on my Australian-plugged laptop charger – they will only accept the 2-pin Australian plugs that you get on smaller appliances that have double electrical insulation.
There are no travel adaptors that take a 3-pin Australian plug and plug into a 2-pin type-A outlet.  I believe that, in Australia at least, it's even illegal to sell an adaptor that does this, as it disables the earthing connection that the appliance is designed to have. 
I can't see a traveller's solution to this – yet there must be a solution as lots of people travel to Japan and I'm sure they charge their laptops and other devices!
When I first came across this problem I thought that I must be missing something – that I just hadn't put the right search terms into Google.  But it's a real problem – I contacted Dave of Too Many Adaptors and he confirmed that this is so, and I also found a staff member in Paddy Palin in Sydney, who had recently been to Japan, and he too confirmed it.
So how are people visiting Japan charging laptops that have a 3-pin plug when they can only access a type-A power outlet with no earth pin socket?  I still haven't worked this out or, more generally, how lager appliances that are usually earthed are used safely in japan.  I guess I'll find this out when I go back for a slightly longer visit in a few months.
The people I've discussed this with have suggested solutions such as getting hold of a 2-pin-plugged US power lead that plugs into my laptop charger, or getting a 3-pin US power lead and cutting off the plug's earth pin.  The best solution that I can see is to buy an Australian to type-B (USA) electrical travel adaptor and to saw off the earth pin, which will allow me to plug in any Australian-plugged appliance (but I'm not advising you to do this, because an appliance with a 3-pin plug plugged into such a modified adaptor won't be earthed).  
However, none of these solutions resolve the underlying issue that my laptop charger, and many other appliances, are designed to be earthed, and no adaptor solution will resolve this due to the lack of a socket for an earth pin in a Japanese 2-pin type-A power outlet.  I'm rather surprised that this issue has never been properly resolved, and that there isn't more discussion about it in information about travelling to Japan.  
Fortunately, as well as my laptop, I am also carrying my smart phone and a 10" tablet, and I have a charger for them that is inherently a type-A (USA) plug (it has an clip-on adaptor for Australian power outlets), so I'll be able to recharge and use them instead of the laptop.  I'll only be in Japan for a two-day, three-night stop-over, so I'm sure that I can live without the laptop for that long!
Tags
If you enjoyed this blog post, you can find related posts under these headings:
Share this The Journey and the Destination post using your favourite social media:
---
Would you like to add something, or ask a question?  Add a comment below (you can leave the 'Website' field blank):