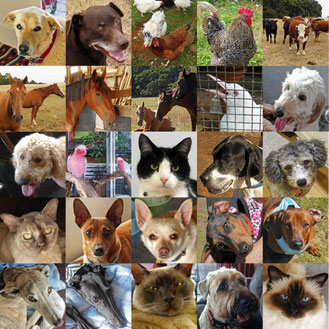 2019 is here!  And I'm looking forward to another year with travelling and house-sitting. 
I've spent a major part of 2018 travelling and house-sitting around Australia and New Zealand, and house-sitting really means pet sitting, so I've looked after many different animals during the year.  This picture shows most of those pets (there's a few more odd ones such as some extra chickens and the occasional fish that I haven't added).
Many of these pets are from around Tasmania; but there are also some there from Brisbane in Queensland, Augusta in Western Australia, and the north island of New Zealand. 
It's been a busy year and it's been great meeting all those pets – it's just as well I love animals!  Of course, you wouldn't do house-sitting if you didn't love animals, because, I can assure you, not all those human-animal interactions go perfectly!  Here they are:
Don't forget to click on the picture to expand it for a better view – there's some cute characters there!
2018 was our fourth year of doing house-sitting, and I've never posted my pet pictures from the previous years, so here they are:   
Our pets of 2017
These pets are mostly from around Tasmania, with a couple from Canberra, in the Australian Capital Territory.
Our pets of 2016
Many of these pets are from around Tasmania, with some from Marcoola in Queensland, Dandenong ranges in Victoria, Thornbury, Melbourne, in Victoria, Tanunda in South Australia, Somerton Park in South Australia, and Mount Martha in Victoria.
Our pets of 2015
These pets are from Southampton in England, Melrose in Scotland, Ballycarrigeen Lower in Ireland, and Cazorla in Spain. 
You may have noticed that some of these pets are in the photos multiple times, as we've gone back to look after them repeatedly.
Tags
If you enjoyed this blog post, you can find related posts under these headings:
Share this The Journey and the Destination post using your favourite social media:
---
Would you like to add something, or ask a question?  Add a comment below (you can leave the 'Website' field blank):