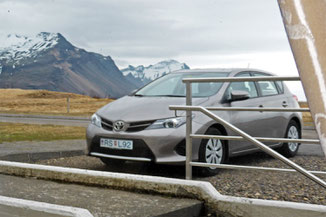 If you're travelling in a car in your own country then chances are you're travelling in your own car. 
If you're travelling internationally, or to a more distant destination in your own country, then leaving your own car at home and hiring one when you get there by aeroplane, boat, or train is likely to be the only, or at least the best, option for you.  
Hiring a car instead of using public transport has both advantages and disadvantages, and there are some tricky aspects to hiring a car that need some careful consideration. 
Hiring a car can be quite cheap or very expensive.  
One of the big factors in car-hire cost is the size and prestige of the car: the small economy car end of the market is very competitive and therefore commonly quite cheap.  We've hired cars for several days at a time in the offseason and got a car for as little as AU$10 per day.  Bigger, flashier cars are usually much more expensive.  If you are travelling for the sake of travelling rather than to impress, then the more basic cars will fulfil your purpose of getting around perfectly; after all, isn't getting around all that cars are for?  Smaller cars will generally use a lot less fuel, too, and in many countries, especially in Europe where fuel may be AU$2.50 (US$2.00) per litre, this will make you travelling cheaper.  
The car-hire industry is very competitive, which drives car-hire companies to devise ways to make what they are offering look much cheaper than it really is.  Because of this, car-hire companies have a well established reputation for hiding costs from you during the booking process and then loading you up with extra charges when you come to collect the hire car; although, this deception has improved a lot over the years.  
If you are aware of these hidden and extra costs you can reduce them greatly if you know how.  I've also gone into other hidden and extra costs in another article, here.
The greatest hidden cost by far is insurance, which can easily cost much more than the car hire alone!  Hire-car insurance is a big subject, so I've gone into the ins and outs of insurance specifically in more detail in another article, here.   
While you may be able to just find a car-hire office at your destination and walk in and hire a car, this is not the most reliable or effective way to do it.  Car-hire companies don't like to have cars sitting around taking up valuable space and not earning money, so they may not have a suitable car available and waiting for you.  You'll probably still be able to get some sort of car, but it's not likely to be the sort that you're after, and it's likely to be more expensive.  
Booking ahead ensures that you won't be stuck without a car, and with no way to get to your destination or accommodation.  While you could use your phone to ring around to get prices and availability and make a booking, this isn't the best way to do things either, especially if you're in a country where you don't speak the local language. 
The best way to book a hire car is online, on the internet.  If you search for car hire in your favourite online search site (such as Google) it will offered you many websites.  Some of these websites will be car-hire companies, such as Hertz, Avis, Budget, Alamo, Europcar, Thrifty, and the like.  Car-hire companies almost always have websites which have online forms to collect your requirements and offer you options, and you can efficiently book a car this way.  Sometimes this is also an economical way to get a hire car, but usually it's not the cheapest way.
When you do an online search for hire cars you won't just get websites for car-hire companies, you will also get websites for car-hire aggregators.  Aggregator websites are brokerage websites, similar in operation to aggregator websites in other commercial spheres such as Booking.com and Wotif for accommodation, and EasyJet and Skyscanner for airline flights.  The businesses that run these aggregator websites don't provide any actual services – they just act as intermediaries between you and the service providers.
Car-hire aggregator websites have agreements with the car-hire companies to get access to their hire information, which they use to give you a wider range of choice across all of the car-hire companies.  Car-hire aggregator websites negotiate special rates with the car-hire businesses, and set them up in competition with each other for your business.  Car-hire aggregator websites offer you a range of deals from different car-hire companies that you can filter and search through to find which one meets your car-hire needs best.  The deals are usually better on car-hire aggregator websites that what the car-hire companies themselves are offering on their websites, and they usually include more options and extras in the initial price. 
On your first sight of results from your favourite online search site it's hard to tell the car-hire aggregators from the real car-hire companies, but once you follow the links and open the pages you can usually tell because the car-hire aggregator websites list all the car-hire companies that they poll for offers.  If you book with a car-hire aggregator you will usually pay a small deposit as part of the booking process (this is their cut), and you will pay the rest to the car-hire company when you collect the car.  
Economy Car Rentals, CarHire.com.au, and VroomVroomVroom are all car-hire aggregator websites, and there are many others.
If you use a car-hire aggregator you may not get to find out which car-hire company you have booked with until after you have completed your booking.  In this case, you need to be sure that the car hire is fully cancellable, so that you can determine if the car hire company is reputable, and if they have any restriction in their terms and conditions that don't suit you. If there's an issue you can then cancel and find somewhere else to hire a car.
If you are keen enough to do your full due diligence for your car hire you should check a few of both the aggregator websites and the real hire-car company websites, but you will usually get the best deal on an aggregator website.  Aggregator website prices usually include more of the things that are commonly left out  by car-hire companies.  I usually end up using Economy Car Rentals, but I have used others, including actual hire-car company websites.
That's the basics of hiring a car for travelling, but there is more subtlety to it than that – you can find more on my tips for hiring a car in another article, here.
I've based this commentary on my personal experiences, circumstances, and impressions, and my limited research on hiring a car – it isn't the result of an exhaustive study about hiring a car.  It may not apply to you, or your circumstances.  
Over time, the things that I say here may become out of date, and, while I'll correct anything I know is wrong, I'm not going to be excessively conscientious about ensuring that it is current.  So, treat this commentary as a great place to start, but do your own research and confirm everything that you read here before deciding to hire a car!
---
Share this The Journey and the Destination page using your favourite social media:
---
Would you like to add something, or ask a question?  Add a comment below (you can leave the 'Website' field blank):