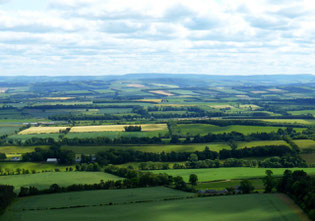 So where am I at now?
I have been to the Cotswolds region and the Isle of Wight in England; southern Spain; Iceland; Toronto in Canada; Yellowstone National Park in Wyoming, New York, and Washington in the United States; back to London and the Isle of Wight in England again; the south-west coast of Scotland, and now I'm house-sitting in Melrose, in the Scottish Borders region.
The Scottish Borders region is an area in south-eastern Scotland across which, for thousands of years, the border with England has moved backwards and forwards.  This means that for a long time there has been much posturing, violence and extreme brutality in the area, peaking with the slaughter of 4000 to 17,000, civilian people in the town of Berwick-upon-Tweed (currently in England) in the late 13th century, by King Edward I of England, to teach the Scottish a lesson for attacking Carlisle.  All this gives the Scottish Borders a colourful and well recorded history with plenty of monuments and heroes.

Like much of Britain, the Scottish borders is covered in verdant farmland formed of irregular fields (paddocks) surrounded by stone or vegetation hedges, all laid over rolling hills. It's a very controlled landscape that has been heavily manipulated by humanity for thousands of years, and is very gentle on the eyes. (Green and shaded lanes, ordered woods and gardens, and all that.)