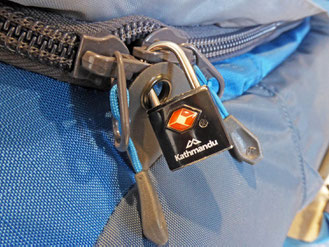 I've been TSA'd! 
The Transportation Security Administration (TSA) looks after security at US airports – they scan checked luggage which goes into the hold of aircraft, and they have a right to search it without your permission or attendance.  If you lock your bag with a padlock, for protection against theft or having illicit things planted in it, they will remove the padlock if they decide to inspect it, even if that means cutting it off. 
If you don't want your locks destroyed should your bag gets inspected you can get TSA approved padlocks.  TSA approved locks can be opened by a master key that is (supposedly) only available to TSA agents, as well as your own key or code for combination locks; which means that your lock won't be destroyed by the TSA, and your bag will still be locked when they have finished inspecting it.
Some bags, usually suit cases or trolley bags, have an integrated TSA combination lock, which have a keyhole for the TSA key alongside the combination lock.
After a long day's travel from the USA to the UK, I arrived at my accommodation in Clapham, in the UK,  and opened my bag to be surprised to find my box of tooth flossers, which I was sure that I had placed in my toiletries bag, sitting on top of my belongings.  I also quickly noticed a single glucosamine tablet sitting there, too.  My first thought was that the lid of my glucosamine tablets had come off during the multiple bag handling of two flights, and that I was going to find (hundreds of) them spread throughout my belongings.  I dug out the bottle to find that the lid was still on it, but was loose.  I realised, then, that the TSA had been through my bag and my glucosamine tablets.  I hope that they had clean hands!
Tags
If you enjoyed this blog post, you can find related posts under these headings:
Share this The Journey and the Destination post using your favourite social media:
---
Would you like to add something, or ask a question?  Add a comment below (you can leave the 'Website' field blank):