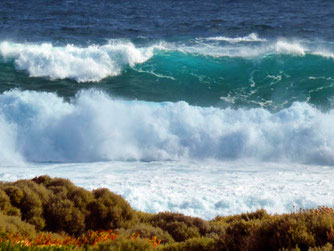 Here in south-west Western Australia the coastline is always beautiful – it seems that wherever you find your way to the coast it's stunning and unspoiled. 
This area is the Margaret River Region; it's well known for a few things and one of them is excellent surfing.  (Some of the other things are great wine and great white sharks.) 
 We dropped into Cowaramup bay for a look, and found it to be yet another beautiful place, and a surfing hot-spot with nice waves pumping. 
Here are two of the surf breaks:
When I was there, there was some great surf running, and lots of surfers were out enjoying it.  This guy was good – he's doing a nice cutback here:
That's not one of Western Australia's famous great white sharks in the wave – it's just a clump of seaweed.
All along here the coastline is wild and largely undeveloped.  This is the coastline continuing north from Cowaramup Bay:
The little town of Gractown is cut straight into the coastal heath above Cowaramup bay:
I expect that a lot of the houses in Grace Town are surfers' homes and weekenders.
The Gracetown Tragedy
Like much of the coastline here, limestone cliffs fringe Cowaramup Bay, and, as always, the limestone cliffs weather quickly and are weak and crumbling.  As I have shown in previous posts, the limestone creates lots of interesting landscape features, but here it also created a disaster.  
In 1996 Cowaramup Bay was the scene of a terrible tragedy.  An interschool surfing competition was being held here when a section of the cliff collapsed onto parents and children involved with the competition.  Nine people died, four of them children.  This incident is known as the Gracetown Tragedy.  
These markers are part of one of the memorials to the tragedy:
These days, there are hundreds of signs all along the coast warning of the dangers of these unstable cliffs.
Tags
If you enjoyed this blog post, you can find related posts under these headings:
Share this The Journey and the Destination post using your favourite social media:
---
Would you like to add something, or ask a question?  Add a comment below (you can leave the 'Website' field blank):