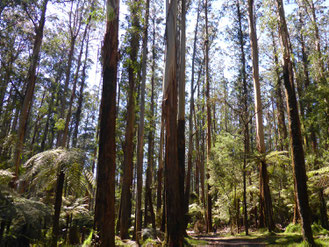 Many travellers are focussed on visiting cities and towns; but visiting wild places is also an important part of travelling.  An important part of visiting wild places is ensuring that you know exactly where you are, so that you can get to where you want to go, and are able to get back afterwards. While paper maps are pretty useful for this, the modern method is to use a navigation app on a mobile device.  So just what can a navigation app do, and what's a good app for bushwalking navigation?
Navigation for bushwalkers
One of the most common apps used for finding your way around is Google Maps, but Google Maps isn't the best option for when you're out of the towns and the cities and into the wilder places. 
I like to mix a bit of bushwalking (the Australian term for hiking, walking, trekking…) in with my travelling – it's a fundamental aspect of exploring a place that shouldn't be left out.  While navigation apps like Google Maps will usually do a functional job of telling me where I am even when I get off the well-beaten track, a more specialised app works much better for me.  One such specialised app is Handy GPS.  While handy GPS is aimed at "hard-core" bushwalkers, it's easy for anyone to use it to find their way around in the wild.  I've been using Handy GPS for a few months now, and I find it works well and is very useful.  
What Handy GPS does
Handy GPS uses your device's GPS (satellite-based global positioning system) to shows you, on a map, exactly where you are.  By itself, that's no gain over the likes of Google Maps – but Handy GPS also tells you how far you have gone since you started, and it keeps track of where you have been by continuously recording your location and showing a path of your journey on the map.  Your position is determined in three dimensions, so Handy GPS also tells your altitude.  
Handy GPS also tells you how fast you are moving and in what direction, and it provides you with a compass if your device has a magnetic field detector, as my low-end Samsung Galaxy phone does.
Here's a screen shot of Handy GPS's main screen, which shows the coordinates of your position, your altitude, how far you have gone, how fast you are moving and in what direction:
 In practice, Handy GPS is so good at helping you to navigate, that, even if you are a very serious bushwalker, you never really need to know the coordinates of your position, to know which way north is, or even to carry a paper map that requires that information, because it all happens on the on-screen map (carrying a power bank/backup battery might be a good idea, though.)
Here's a screen shot showing the path that I took on a journey, on a map (in this case, the climb up to Wilpena Lookout and Rawnsley Bluff in Ikara - Wilpena Pound, in South Australia):
Handy GPS can also show your walking path as an elevation profile, which shows how you have ascended and descended the hills as you go.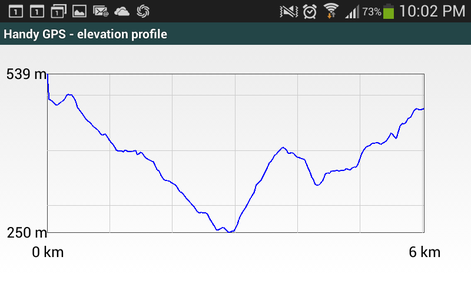 Handy GPS can also show you a summary of the basic statistics of your walk, such as your overall range of altitude and the total amount of ascending and descending that you have done, as you can see in this screen shot:
Recording your walk
After your walk, you can save the recorded position data and import it into Google Earth, where it shows as a three dimensional trace (line) across the Google Earth terrain.  Here's an example showing the tracks that I walked in the Trevallyn Nature Recreation Area, in Tasmania, Australia: 
This is a great way to keep a record of your expeditions.
Specialised maps
While the map used in Handy GPS can come from Google Maps, Handy GPS also gives you access to more specialised bushwalking or mountain-biking maps that have more tracks (trails, paths) and better accuracy for the things that matter to bushwalkers. 
Planning your walk
When you are planning your walking route, you can create waypoints and a route in Handy GPS before you go, which you can use to guide you as you are walking.  You may even be able to plan your bushwalk in Google Earth, and then export it to Handy GPS on your mobile device (I haven't tried that yet.)
Communicating your position with Handy GPS
You can use Handy GPS to send a text or email to someone (if you have mobile coverage or a mobile data connection while you are walking) which contains a link to your location in Google Maps to let them know where you are, which would be very useful in an emergency. (If you think this is really important, like when you are walking alone, other apps, such as Graticule, will automatically periodically send your location to a website, so that other people can log in and track where you are.) 
Handy GPS isn't just for bushwalking; it's also great for a range of outdoor activities such as mountain biking, horse riding, kayaking, and sailing.  It's actually pretty handy in the city, too, as it tells you where you've already been, and if you've really walked far enough to feel so tired already.
Getting Handy GPS
Handy GPS comes as a free, limited-feature trial version that will still show you where you are on a Google Map only, tell you how far you have gone, your altitude, and how fast you are going, or as a full-featured paid version with all of the features that I have described above.  Like most mobile apps, the full-feature version costs only a few dollars.  It's well worth it for the convenience it gives when you're off the road.  You can find out more about Handy GPS on its website, here.
---
Would you like to add something, or ask a question?  Add a comment below (you can leave the 'Website' field blank):