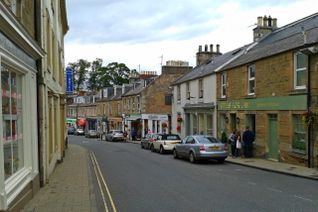 I'm house-sitting in Melrose, in the Scottish Borders region.  Melrose is a pretty little town set on the edge of the flood plain of the River Tweed. Melrose is one of a string of cute little Scottish towns that almost merge together along the River Tweed valley, including, from east to west, Newstead, Gattonside (over the river), Melrose, Darnick, Tweedbank, and Galashiels.
Here's some pictures of these cute little villages; this is Newstead:
This is Melrose, with Eildon Hill North as a backdrop.
Melrose originated as a village that developed around Melrose Abbey, which was built about 900 years ago. The ruins of the abbey are on the edge of the 'modern' town.
Melrose, and the Scottish Borders in general, is surrounded by rolling green hills covered in picturesque farmland, which is a mixture of mostly sheep pasture, amd grain crops, with some forestry plantations.