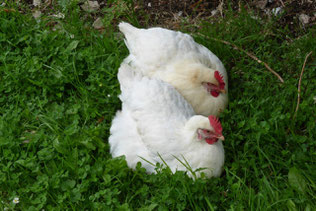 I'm in Ireland now; in fact, I've been here for two weeks.  I'll have more to say about Scotland soon, but for now it's time to introduce Ireland.
We are house-sitting an 1839 farmhouse in Ballycarrigeen Lower, County Wexford, Republic of Ireland.  Our charges this time are a dog, a cat, a rabbit, and four chickens. 
Here's what the farmhouse looks like.
The dog, Monty, is a wire-haired fox terrier; although, his hair is anything but wiry; it's actually soft and wooly; here he is:
Monty's coat is diametrically different from the easy-care, self-grooming coats of Bruno and Lulu the boxers, whose short, stiff, and shiny individual hairs naturally spring back into place and shed dirt.  Living in a rural setting, Monty's soft and wooly coat picks up burrs, leaves, chicken poo, and other stuff all too easily.  Because of this tendency to get a bit grubby we decided to give him a bath:
The cat, Ringo, is a siamese cross.  He has the beautiful head shape, beautiful eyes, large ears, and slim supple body of a siamese cat, with the colouring and marking of an Aussie feral cat, including tiger stripes on his legs.  Like all cats, Ringo doesn't really live here, he just comes for the free food and somewhere warm to sleep, which he is doing here:
Another siamese cat characteristic that Ringo has is vocalisation.  He makes the most amazing and complex communicative yowls,  which almost sound like human speech; more on that later.
The rabbit, Siberian, is a lion head (that's the breed.)  He's a big ball of grey fluff that constantly tries to dig and gnaw his way out of his cage.  If he were to succeed he would undoubtedly quickly meet Ringo the cat, and things would not go well; more on that later, too.
The four chickens don't have names, but they do have colours; each has a coloured band on her leg: green, blue, yellow and purple, and by these they are named.  I've not spent much time with chickens before; once they get to know you they become very curious, always hanging around to see what you are doing, and if there is anything in it for them.  They each almost always give us an egg a day, which we can barely keep ahead of.
As well as the farmhouse, there are several outbuildings.  One of these is a stone barn that has been partially restored with repairs to the stonework, and a new roof, not a thatched roof though, as many of the old buildings here would have had; but thatching, while beautiful, is incredibly expensive and high maintenance.  It's a beautiful old structure.
The property is on a ridge overlooking a broad valley, which is quite reminiscent of the Scottish Borders, and is, therefore, a beautiful, idyllic, rural scene.
Here are some other local views: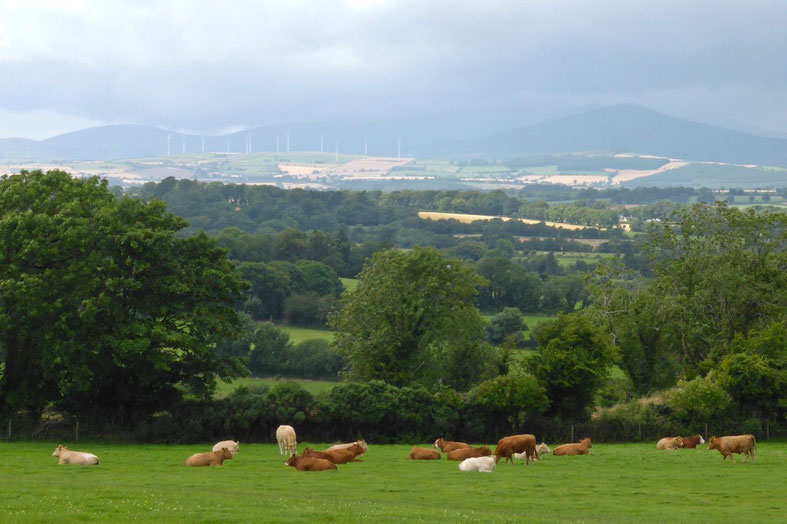 Note the ubiquitous wind turbines. (Ubiquitous, that is everywhere else in the world except Australia.)