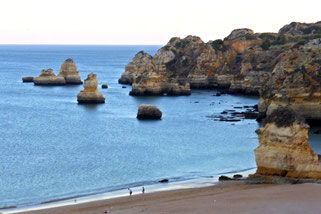 Our first night in Lagos, Portugal, was spent in an apartment called Casas da Barroca.  That's Barroca, not Berocca.  Berocca, if you remember from your youth (if you still have your youth, this may be a useful tip), is a vitamin B supplement that is rumoured to help you to get over a hangover;  that's relevant, so read on to find out why.
This is the view from the front window of our apartment at Casas da Barroca: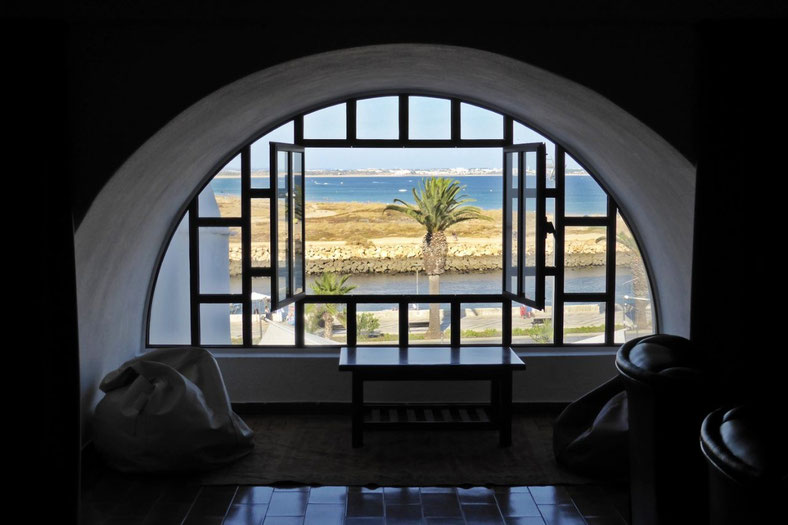 Pretty good, hey?!  
The apartment includes a two-level private roof terrace; here some pictures of the view from it:
Wow!  What a location!
You're probably thinking by the style of my approach to this that this story is going to take a downward turn, along the lines of "this is just too good to be true."  So, here's a picture of the front door:
Now, you are probably thinking something like "That's the entry to a nightclub, not the entry to an apartment", and you would be right, because the entry to the apartment is INSIDE the nightclub, and the apartment is ON TOP of the nightclub.  I have a key to that nightclub entry door so that I can get in to the apartment.  
You may also notice that on that door it says that the nightclub is open from 9:30pm to 6am.  That's all night, and its LOUD: the drum hits sound like small sticks of ANFO going off, and there is very little sound insulation between the nightclub and the apartment. So I'm writing this at 2am with only four hour to go.  The only good thing about this is that the music is great 70's and 80's music; but no matter how good the music is, you only need so much of it at 3 o'clock in the morning when you have things planned for later in the day.
Tomorrow morning we are moving, and instead of spending the day exploring the wonders of Lagos:
I will be trying to find somewhere quite to sleep, I've got no hope of finding any Berocca.
P.S. the loud music only went 'till 3am; much quieter after that; so we were able to get a little sleep and explore the wonders of Lagos after all!