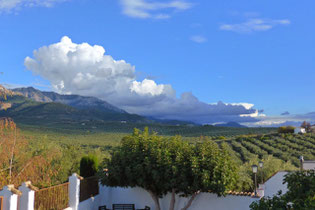 We are currently house-sitting in Cazorla, in southern Spain. This house is a small hotel called Cortijo los Abedules, which incorporates three self-contained units of various sizes. It's the end of the season now, and the owners have shut the business down while they've gone away for their own holiday, so we are looking after their house and their dogs.
'Cortijo' means 'farmhouse', and this house used to be a house for an olive grove.  'Abedules' means 'birches', so this is the farmhouse of the birches; not that there are any birch trees here - Birch is the owners' surname.
The property still has a few olive trees on it, but it is in the middle of a vast ocean of olive trees that extends way beyond the horizon - olives and olive oil are very big business in Spain!  
The olive trees are grown in bare soil, which is derived from the ubiquitous limestone, and so is very pale in colour.  The dark green olive trees are planted in lines and  spaced well apart for machinery access, so the pale soil is very visible and contrasts strongly with the trees.  This produces a distinctive pattern that is clearly visible from a great distance as it wraps over the undulating landscape.
Our charges are two small, middle-aged dogs of mixed breed called Munchy and Leila, who love being walked in the endless olive groves.  They are well set up here with a nice enclosed garden to run around in, and are generally easy to get on with.  Here they are, looking a little nervous about having their photo taken:
Cortijo los Abedules is about five kilometres from the town of Cazorla, which is a white-washed village set into the foothills of the Sierra de Cazorla, a limestone mountain range that rises suddenly out of the undulating plains.
The Sierra de Cazorla, and two other mountain ranges, the Sierra de las Villas and the Sierra de Segura, comprise a huge national park called Parque Natural da Cazorla Segura y las Villas, which is the main attraction for visitors to this area, including us.
---
Would you like to add something, or ask a question?  Add a comment below (you can leave the 'Website' field blank):