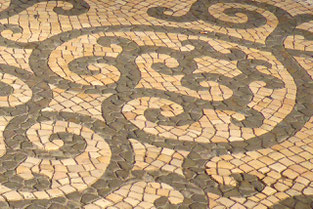 The pedestrian areas in the town centre of Faro, in Portugal, are paved with small, semi-regularly shaped stone tiles arranged into various interesting and beautiful patterns.  This paving is a Portuguese speciality that was originally only used in Portugal and its invaded territories.  These functional works of art and craft have intrigued me, and I'm looking forward to seeing more of them as I move around Portugal.
Here's a panoramic view of pedestrian areas in the business district of Faro:
Here's close-ups of some of the paving:
I believe that the tiles are usually limestone of different colours.  The limestone is relatively soft and so polishes to marble as it is walked on, which makes it a rather slippery surface.  There has been no rain (not even a mild threat of it) while we have been in Portugal so far, but the pavement is reputed to get extremely slippery when wet.  
It's also an awful surface for pulling the ubiquitous trolley bags on - you can hear a newly arrived tourist looking for their accommodation coming from hundreds of metres away here!  It also causes a distinctive whirring sound when cars drive on it, which is different from the sound caused by driving on the cobbled roads of the British Isles or Spain, and different again to the sound that studded winter tyres make on the roads in Iceland.
All these possibly millions of tiles are bedded in sand, and there was plenty of evidence of them coming loose and moving around, so upkeep and repair must be a constant activity.  A moderately large repair was underway in Faro.
Here's the craftsman at work: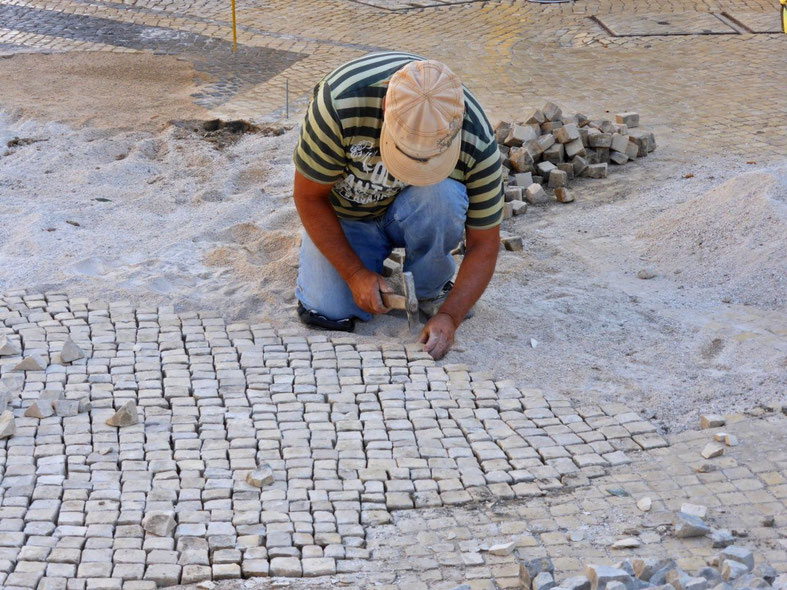 Lisbon is reputed to have the best and most artistic Portuguese pavement in Portugal; so I'm curious as to what I'll find when I get there.