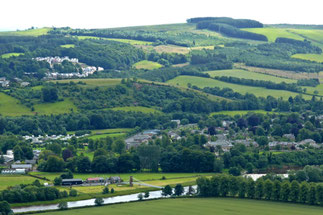 The centre of Melrose is situated on the southern edge of the flood plain of the River Tweed, and our house-sit is on the southern edge of Melrose on hills rising off this flood plain. From this area, in the right spot, you can see right across the valley to the ridge of hills on the other side.  While the dominant landscape feature for tens of kilometres around is the Eildon Hills, this ridge is also a beautiful backdrop to many scenes around Melrose.  
Here's a view of it in the background on the walk down into Melrose from our house-sit.

And here's a view of it behind the ruin of Melrose Abbey.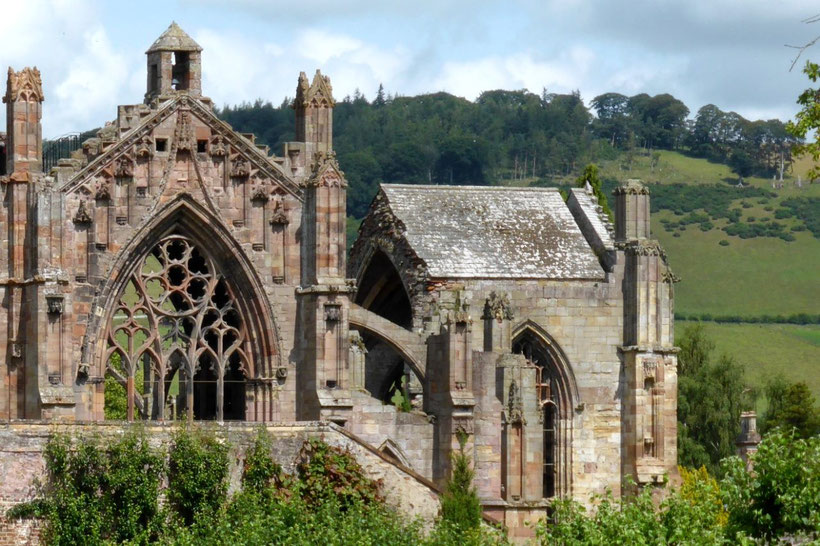 The top of the ridge has a gentle curve that is covered with grassy paddocks (fields, in the vernacular) and little patches of forest.  I've been attracted to this picturesque ridge since I came to Melrose, and have expected that it would give great views back across the River Tweed valley to Melrose, the other surrounding towns, and the Eildon Hills.
Today we walked to a small town, called Gattonside, on the other side of the River Tweed,  and I took the opportunity to strike out on my own to see if I could find a way to the top of this enticing feature.  
To get to Gattonside you need to cross the River Tweed.  The best and most interesting way to do this on foot is to cross on the Chain Bridge, a suspension foot bridge built in the 19th century.  
Like many old British towns, Gattonside has cute little narrow winding streets lined with ancient stone houses; this street is called The Loan, and it begins the climb up the side of the ridge.  Here it is looking back down the hill, with just a hint of Eildon Hill North visible in the background. 
Heading out of the uphill side of Gattonside the route passes through a patch of forest - the track here rises continuously, and is quite muddy and slippery; in fact, in many parts it's virtually the bed of a stream, with water running down it, due  the recent and ongoing rain. At the upper end of the forest patch the route becomes a nice open grassy path and the beautiful view across the valley becomes visible.
The path keeps climbing across the face of the ridge until it crosses the top.  Here there is a wide grassy field with some rough horse jumps in it.
And the view is fantastic!  One of those horse jumps makes a great seat to sit on while you take in this view to the south of Melrose, the River Tweed valley, and the Eildon hills.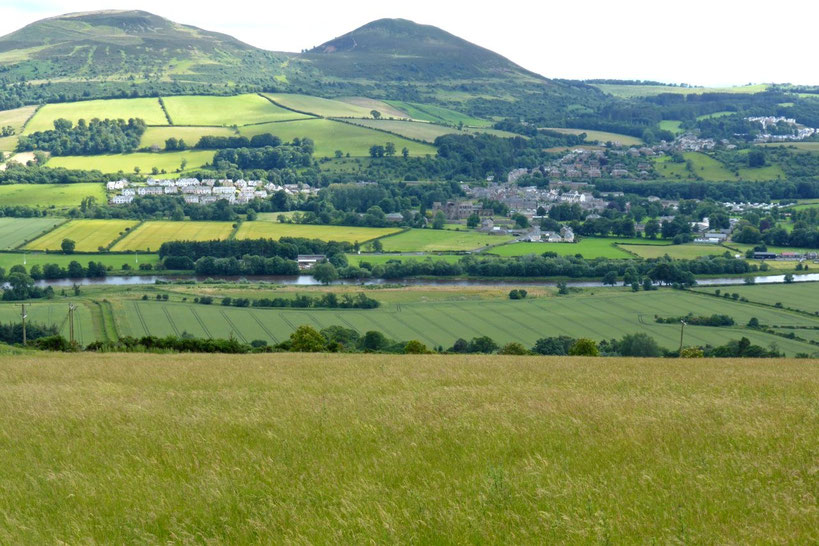 Looking north, away from the River Tweed valley, the landscape is a series of rolling ridges covered in drystone walls, sunlit sheep, and the graceful forms of wind turbines.