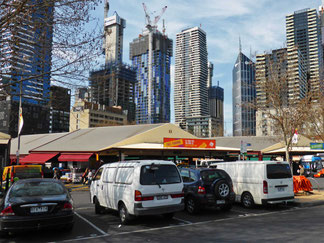 I recently had cause to drive to Melbourne's Tullamarine Airport, for an early drop-off. It's a one-and-half-hour trip, so I was travelling through the suburbs at 6 am.  Even then, the four lanes of the Monash Freeway are close-packed with cars travelling at the speed limit, so the freeway is operating at maximum capacity, maybe hundreds of cars per minute.  This will go on for a couple of hours yet, and this is only one of several big feeder roads into the city. It's hard to believe that all of these vehicles pouring in are going to find a park for the day, and even harder to believe that I'll find one too, by the time that I get there!
All these cars mean a huge demand for parking in and around the central business district, and if you're a visitor to the city and you want to drive in, you know that you're going to have a hard time parking, and that it's going to be expensive.
As happens in the commuter rush hour in almost any big city, virtually all of these cars have just one person, the driver, in them – it's such dysfunctional madness to do things this way, but we are stuck in this mind set from the 1950's, of driving cars to work.
What all this means is that, if you're visiting Melbourne, the first and best option is to not park at all, which you can do by staying  at accommodation within the city centre or its immediate surrounds and using public transport, which is very effective in Melbourne and reasonably priced, at least when compared to the cost of parking in Melbourne.  
However, if you are travelling around more of Australia than just the major cities you probably have a car, because that's the only way to see a large part of all there is to see around Australia – so what are the best parking options in Melbourne?
Parking options
From my limited experience, here are some parking options for Melbourne that I have found that seem to work the best.
Queen Victoria Markets
A great place to park is at the Queen Victoria Markets car park.  Queen Victoria Markets is a must-see; it's always worth even a quick visit, and it's right on the edge of the CBD for great walking or free-tram access to everything else that you want to see in the city. 
Short-term parking at the Queen Victoria Markets is very cheap on market days – the first hour is free, and up to three hours will cost you AU$12 at the time of writing.  But long-term parking on market days is much more expensive – AU$35 maximum for more than six hours. However, if you think AU$35 is expensive for parking your car for the day, consider the cost of parking in Bourke Street in the centre of Melbourne: 
AU$60 when you park for more than just three hours!
On non-market days (Mondays and Wednesdays) there is no free parking at the Queen Victoria Markets. However, long-term parking is relatively cheap on these days – AU$18 dollars maximum if you stay for more than three hours.
Melbourne Arts Centre
The Melbourne Arts Centre at Southbank is also a reasonable parking option.  It's right in the middle of many of the things that you will want to visit in Melbourne, such as the National Gallery of Victoria, Federation Square, Flinders Street Railway Station, and Princes Bridge; and it's only a short walk to the central business district and the free-tram zone. 
All-day parking at the Melbourne Arts Centre on a weekend is AU$19, and on week days, if you can get yourself going early enough, it's AU$16 if you get in by 10am.
Parking out and catching a tram
A great Melbourne parking option (actually, this is a great way to go in many cities) is parking outside of the central business district and catching a tram into the city – Melbourne is renowned for the efficacy of its tram system, and the trams in the central business district are free.  
I've parked out at Brunswick, in the northern inner suburbs, where I found all-day free parking only a short walk from the nearest tram stop, or a little closer in at Brunswick East, where I found a five-hour parking space a short walk from the nearest tram stop.  
Catching the tram in from these area gives you the bonus of passing through and stopping at Melbourne's marvellous and eccentric villages, like Brunswick on Sydney road, Brunswick East on Lygon Street, Carlton on Lygon Street, Fitzroy on Brunswick Street, and Collingwood on Smith Street, on your way into the city.
You can't buy individual tickets for Melbourne's tram system, you must buy a pass called a Myki card, which works in a similar fashion to London's Oyster card, or New York's MetroCard, and many others. 
As always, this commentary is based on my personal experiences of parking in Melbourne – it isn't the result of an exhaustive study of the subject!  Over time, the information may become out of date, and I'm not going to be excessively conscientious about updating it, so treat it as a great place to start, but do your own research before driving in to Melbourne and looking for a car park!
---
Would you like to add something, or ask a question?  Add a comment below (you can leave the 'Website' field blank):