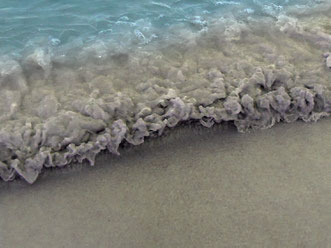 I went for a swim at Augusta's most popular swimming beach this afternoon, at Davies Road in Flinders Bay. 
Like all the coastline around here in the south-west of Western Australia, it's a very beautiful spot. The weather here seems to be endlessly perfect, too, with mostly warm windless days and clear blue skies while we've been here, as it was today – perfect for swimming and admiring the scenery!
This beach is popular for swimming because it's protected from the swell by rocky reefs that runs parallel to the beach.  Not that it needed and protection today – what wind there was was offshore, and there's no swell at all at the moment:  
The reefs, the reduced swell, and the adjacent headland keep the shifting sand out a bit, too, so there's reasonably deep water close in. 
There were perhaps ten people swimming there today, but generally I don't see too many people swimming around Augusta.  That may be because it's the end of the season and it's cooling off now.  This doesn't deter me, having spent so much time in Tasmania, although I did find the water moderately cold.  Then again, it may be the Margaret River region's reputation for great white sharks that keeps them out.  Not that I saw any during my short 600 metre swim, but I did see a good sized stingray.
I don't expect that anyone is interested in my swim, as such, but this post is really about the beautiful beach and the lovely clear water, which are worth seeing.  Here's some of my pictures, so you can see what I mean:
Tags
If you enjoyed this blog post, you can find related posts under these headings:
Share this The Journey and the Destination post using your favourite social media:
---
Would you like to add something, or ask a question?  Add a comment below (you can leave the 'Website' field blank):