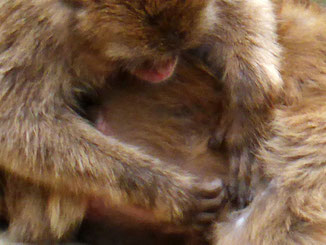 We went into the Launceston CBD today, and we parked near City Park.  City Park has a macaque monkey display, which I've described in a previous blog post.  As always when we are going by, we stopped in on them to see what they were up to, and to catch another revelatory glimpse of their evolutionary connection with humans.  
It was a quiet time of day for them, and, in a sense, they weren't really up to much; but, as always, they do everything, including nothing, in an entertaining way.  
Here's three of them cuddled up for a nap:
Grooming
There was lots of quiet grooming going on – here they are, deeply into it:
Social interaction
Superficially, the grooming looks very gentle and friendly, but as any sociologist/psychologist would expect, such a pervasive social activity runs to much greater complexity.  I watched this young monkey grooming an adult monkey:
After a while the adult suddenly got up to end the grooming, and the younger monkey started to leave.  Evidently, it was the younger monkey's turn to be groomed, and it was a serious social requirement – the adult monkey screamed angrily at it, grabbed its hand and twisted its arm behind its back forcing it to the ground, inducing a grimace of agony on its face.  After pinning the younger monkey down for a few moments, the adult monkey released it, and the young monkey then lay still and dutifully allowed the adult to groom it.  I wish I'd caught that interaction on video!   
No wonder this one is just keeping to itself in a cave!
Tags
If you enjoyed this blog post, you can find related posts under these headings:
Share this The Journey and the Destination post using your favourite social media:
---
Would you like to add something, or ask a question?  Add a comment below (you can leave the 'Website' field blank):