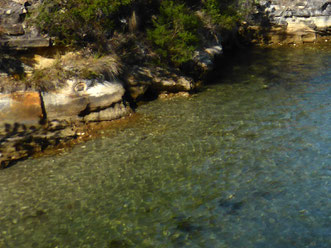 We had a break in our house sitting schedule so we took some time off from looking after pets and cleaning up at the end of a house-sit assignment to stay for a few days in a cabin in Snug Beach Cabin and Caravan Park, a caravan (trailer) park at Snug, a short drive south of Hobart.  We had a marvellous stay in a very beautiful and interesting area.  
And how cute is the name "Snug"!?  It almost beats Flowerpot, a few tens of kilometres further south! 
Snug is within the protected waters of North-West Bay, which is part of the D'Entrecasteaux Channel, south of Hobart.  You can see where it is, here, on Google maps.
Snug is surrounded by beautiful clear water edged with eroding sandstone cliffs, wooded hills, and rural scenery.  This is the view from Snug Beach looking South, with Conningham peninsula in the near background and Bruny Island in the far background beyond:
And this is the view from Snug Beach looking north with Kunanyi (Mt Wellington) in the distance visible over the trees:
These sandstone cliffs form the northern end of Snug Beach: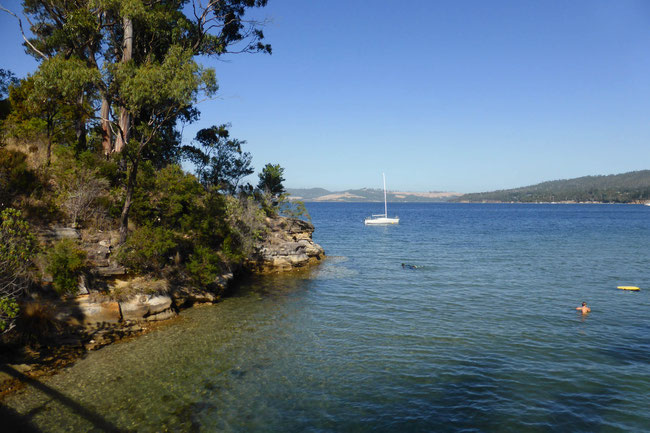 Again, Conningham peninsula is in the near background and Bruny Island is in the far background.
Oh, by the way, can you see the fossil dinosaur head with the green shaggy hairdo? There's a closer view of it in the opening picture!
The other end of Snug Beach is defined by a crumbling sandstone headland, here with Tinderbox peninsula in the background over the water:
This is a big block of disintegrating sandstone that has been left behind by the receding headland:
Snug Beach has a little river estuary which forms a beautiful lagoon as the tide comes in.
And there's a wooden footbridge crossing the river to give walking access to the adjacent headland.
We were lucky to be there for exceptionally and unseasonably warm weather – the local people told me it was a late summer.  The weather and the inviting clear blue-green water convinced me to have my first-ever swim in Tassie seas! Just like these people:
 One morning of our stay in Snug Beach the clouds got it just right to give us an astounding sunrise.
Snug is a very picturesque place to stay.  It's relaxing because it's a very quiet area, with few human-made traveller attractions in the immediate vicinity, but its natural features let you make your own excitement with walking, boating, and viewing the beautiful scenery.
---
Would you like to add something, or ask a question?  Add a comment below (you can leave the 'Website' field blank):