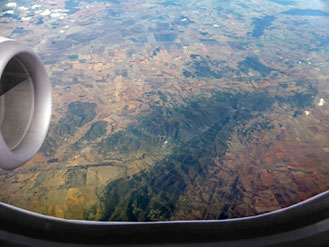 I've been flying back and forth between Launceston and South East Queensland again, and, as before, what I see out of the window as I fly over Australia reveals humanity's vast effect on the landscape.
This flight takes me across an immense fertile plain in the middle of New South Wales and Victoria.  Most of this 1500 kilometres of landscape is co-opted to serve humanity – it's just one big machine for feeding and clothing humans.
Agriculture in the landscape
Here's what that machine looks like from the air:
You may think that agriculture is a benign use of the landscape, with all that greenery and fecundity and those cute farm animals, when compared to other human uses of the landscape.  And this is somewhat true – some wildlife can coexist with agriculture, although the biodiversity of the landscape is greatly reduced.  But agriculture is overwhelmingly dominant –there's very little of this landscape that could be used by humanity, which isn't.
Agriculture versus mining
When you look for an obviously destructive human use of the landscape you probably think of mining, such as the huge open-cut coal or iron ore pits around Australia, with their immediate and obvious negative effect on the landscape. 
Mining certainly damages the land, both indirectly through the pollution it produces, particularly carbon dioxide pollution, and directly through the disturbance of the land's surface. Compared to agriculture, mining has the disadvantage of being ugly which makes it egregious, whereas agriculture has the advantage of being picturesque, so we tend not to see its negative qualities.  
However mining doesn't have the biggest direct impact on the landscape and the environment – nowhere near it – agriculture does, because it takes over so much more of the landscape, pretty much to the exclusion of all else. 
Wild places in the Australian landscape
You may think that Australia has vast wild spaces that are not dominated by humanity, such as its national parks and state forests.  When you're flying over this landscape you realise that those places are a miniscule proportion of the total landscape – wild islands in an ocean of rectangular paddocks. 
Most of those wild places avoided becoming part of the agricultural machine not because they were special places that deserved to be put aside and preserved; but because they were merely left over when the landscape was turned to serving modern humanity – they weren't good enough for farming.  Even now, many of them are not so much a place of relative wilderness as they are a reserve for future logging, or a place to hunt, thrash around in four-wheel-drive vehicles and trail bikes, or collect firewood. 
Humanity's place in the universe
These observations tell me that this Australian landscape is pretty much fully utilised.  My traveling experience tells me that this doesn't just apply to Australia – I've seen this effect all over the world.  Anyone who thinks that there's plenty of space on Earth for humanity's population and the global economy to keep growing isn't facing up to the fact that the land of the Earth is virtually fully utilised, to the increasing exclusion of other life. 
Would Earth be a better place without humanity?  Perhaps it would, but that doesn't mean that it's valid to wish for our nonexistence.  Humanity's existence is an outcome of the nature of the universe – to oppose our own existence is to oppose the nature of the universe.  Our power to affect the environment that we live in is unprecedented in nature; that same power gives us the ability to sort this out, and to take our proper place in the universe. 
We have a place here; but so does the rest of life on Earth.  We need to accept the obvious facts that we already carelessly dominate most of the surface of Earth, and we need to find ways to constrain ourselves if we are not to completely ruin Earth and ourselves.   
The flights
On a less intense note, here's my destination for this trip: the twin towns of Tweed Heads and Coolangatta:
I took this photograph on the downwind leg of the approach to the Gold Coast airport – you can see the end of the runway in the background of this picture. 
Here's my stop-over destination, Melbourne, on the way back to Launceston in Tasmania, viewed over the port wing as the aeroplane turns into the base leg of the approach to Melbourne's Tullamarine airport: 
Tags
If you enjoyed this blog post, you can find related posts under these headings:
Next post: 
Tulips on Table Cape >
Share this The Journey and the Destination post using your favourite social media:
---
Would you like to add something, or ask a question?  Add a comment below (you can leave the 'Website' field blank):