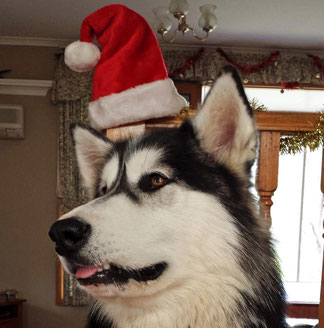 We are house-sitting in Mountain River, in Southern Tasmania.  Our temporary pet this time is Kaya, the Alaskan malamute.  
Mountain River district is in the Huon Valley, and it's named for Mountain River, which flows from the alpine plateau of Wellington Park. The main peak of Wellington Park is Kunanyi/Mt Wellington, which forms the dramatic backdrop of Hobart. 
It's a very beautiful area – a rural and wild valley surrounded by beautiful high mountains.
This is Kaya the malamute:
Kaya is only one year old, so she is really still a puppy.  Fortunately, she has grown out of most of her puppy bounce and mischief, because she weighs 36 kilograms and is the biggest-framed dog we have looked after!  (Not the heaviest, though; that honour goes to Callie the maremma-Labrador cross from Cygnet, who is a big strong girl.)  As well as being beautiful, Kaya is a lovely, affectionate, and playful dog.
The river
Mountain River is named for the little river that flows down from the mountains and through the district.  It's a clear, gurgling stream with trout and platypus in it.
The mountains
Mountain River is a rural area with apple orchards and some grazing, surrounded by forest.  The valley is enclosed by a ring of mountains that range up to 1250 metres high above a valley floor of around 120 metres – the mountains make a varied and  spectacular backdrop.  
This is Buzzietop, with apple orchards in the foreground:
Down the road are more orchards, with Grey Mountain in the background.
Here's more rural scenery with Grey Mountain in the background:
And, even more rural scenery with Grey Mountain in the background:
One of the more spectacular mountains that enclose Mountain River is Collins Bonnet.  From down south in Huonville, where the mountain is seen from a slightly different angle, and where the fine detail is obscured by distance, it's called Sleeping Beauty.  This is because it looks like the profile of a giant woman lying on her back amongst the mountains.  You can just make her out here; the highest point is her nose, and her chin is just disappearing behind the foreground hill.
However, the effect is a lot clearer from Huonville!
These mountains are, from left to right, Devils Throne, Mount Montagu (the highest peak), then an unnamed outcrop, and Montagu Thumbs.  All are behind a lovely rural setting.
Here are some of those mountains from a different location, with more dramatic lighting:
Old rural sheds
The Huon Valley abounds with old apple packing sheds and apple picker's accommodation sheds.  These were mostly abandoned in the 1960s when Tasmania's main apple market, the UK, dried up.  Many of the sheds are now reaching a state of picturesque decay; I've known some go into final collapse while I've been here.  I don't think this one was an apple shed – it's too tall, and is only surrounded by pasture – but it's an interesting construction, and definitely decaying picturesquely!
Mountain River is a great setting for a house-sit!  I hope to do some bushwalking in these mountains while I'm here.
Tags
If you enjoyed this blog post, you can find related posts under these headings:
Share this The Journey and the Destination post using your favourite social media:
---
Would you like to add something, or ask a question?  Add a comment below (you can leave the 'Website' field blank):